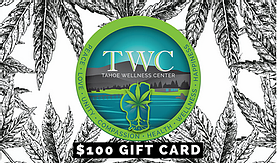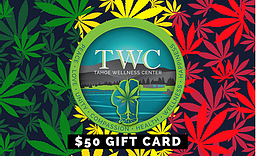 TWC Gift Card details
Sold in two amounts, $50 and $100. You can purchase multiple cards if needed, and redeem multiple cards at the same time if you have received more than one.

Each gift may only be redeemed once, and will be kept by Tahoe Wellness Center after it is redeemed.

Upon redeeming, TWC gift card amount will be loaded to customer profile, and physical card returned to Tahoe Wellness Center.

Must be 21+ to purchase or redeem.

Can be purchased in-store, or online in a pre-order pickup or delivery order, but must be redeemed in-store.

TWC gift cards can be used only for Tahoe Wellness Center in-store purchases.

Not redeemable for cash.

TWC gift cards are non-transferable and resale is prohibited.

If a TWC gift card is lost, stolen, destroyed or used without permission, a replacement will not be provided.
Surprise and delight for birthdays, Christmas, Hanukkah, weddings, engagements, graduation, anniversaries, house warmings, getaways and vacations, valentines, Mother's day, Father's day, Halloween, New Years, retirement, new job, bachelor or bachelorette parties, parting gift, 4th of July party, surprise party or… for no reason at all!