Meet Your Product Specialist | Lina Belardes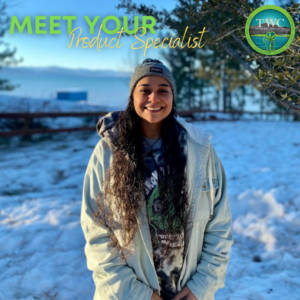 This month we chat with Lina Belardes, one of TWC's Budtenders – and former Vet Tech – who loves cooking, UPNORTH, and her fur babies!
Q: When did you begin working at TWC? What do you love about working here?
A: I started at TWC March, 2020! I truly love being part of a family that all have the same goal. Getting to help so many people from all walks of life, finally find actual relief through cannabis.
Q: What do you like to do outside of work?
A: When I'm not working I absolutely love to throw down in the kitchen and cooking for my loved ones, hanging with my fur children, or just vibin in nature, exploring trails and beaches!
Q: What's your favorite thing about working in the cannabis industry?
A: Having access to cannabis education/newer products to further help customers find a product just for them! Overall seeing the cannabis product growth and seeing what comes next!
Q: What don't we know about you that you might want to share?
A: Before working at TWC, I was a Veterinarian Technician and I have an Associates Degree in veterinary science and technology.
Q: What is your favorite product on TWC shelves right now?
A: Right now, UPNORTH has had some pretty phenomenal flower!